Champagne Smash, a bubbly Champagne cocktail with hints of mint and lemon, cheers!
Hi guys! Kyla from House Of Hipsters here! Are y'all ready to get your party on? I love to throw dinner parties and if you're like me, I love to have a signature cocktail for the evening. Something my guests will remember. Since Christmas and New Years is just around the corner, I decided to share one of my favorite cocktails with you my little lovelies! Now if you've been to my blog before you'll know that I like myself a cocktail or two (okay, maybe three). The Indie Wild Mule is a favorite of mine during the summer months and the classic Wisconsin Old-Fashioned is a nice little heater on a cold winter's night, but this one is kinda special. This one has that bubbly bliss that's perfect for a special occasion.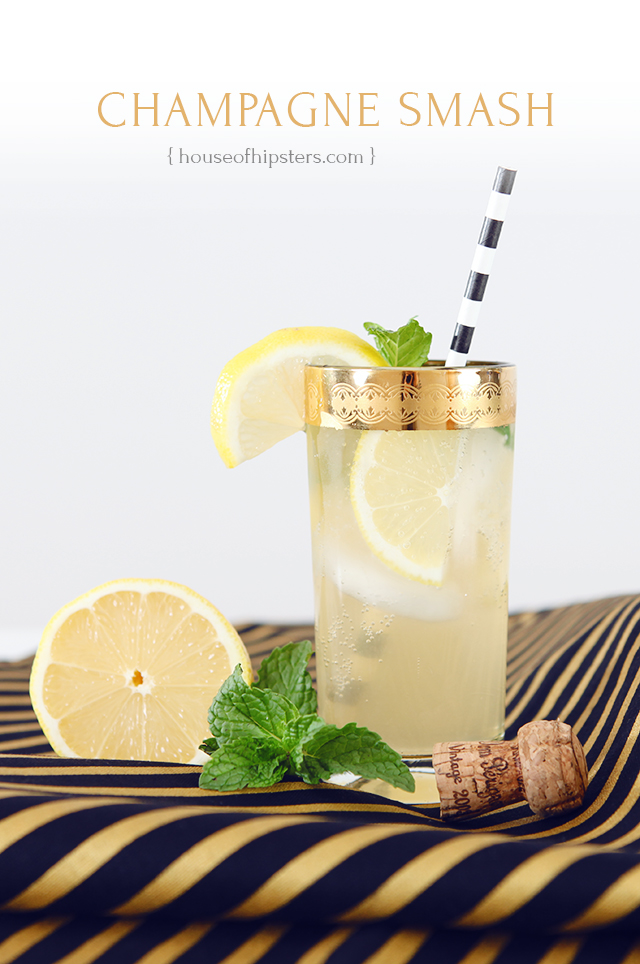 I discovered the Champagne Smash cocktail at a super swank restaurant in Chicago called Bavette's Bar and Beouf, and it took sitting by the bar one night, ordering quite a few, to finally perfect it myself. I seriously had to sacrifice myself for this one you guys. One night, The Boy surprised me with dinner reservations…and let me tell you, this place is not easy to get into. So be patient. It's worth it. Once you're in, be prepared for pure unadulterated awesomeness. It oozes vintage cozy elegance, right down to the antique tiffany style sofas in the lounge. I also think it must be necessary to grow a beard to be a server here. And speaking of the service, it's out of this world. Let's just say your evening will be pure magic. Any friend of mine who is looking for a restaurant suggestion in Chicago, well, this is where I send them. Best wedge salad in the country and one of the best steaks I've ever had.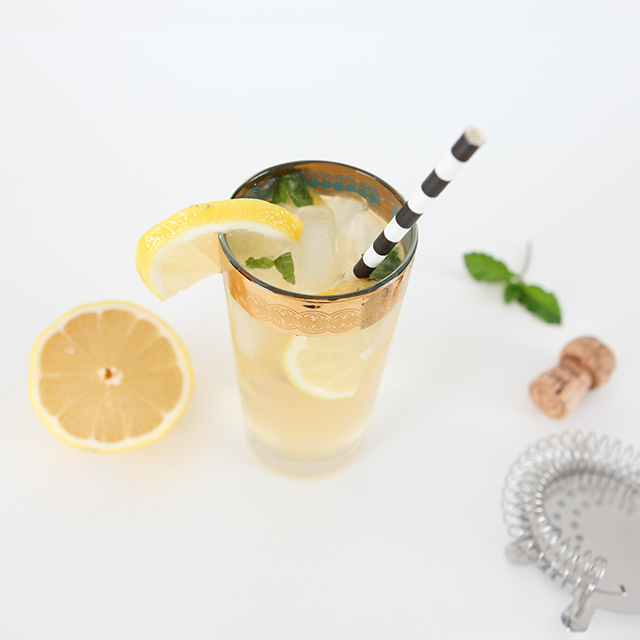 OK, let's get back to this snazzy drink. It's so easy to make. I'll admit, sometimes the retired bartender in me like to get all intricate with my cocktails, but when it comes to hosting a dinner party, I make it easy on myself. You can make this drink with your eyes closed and look like a rockstar.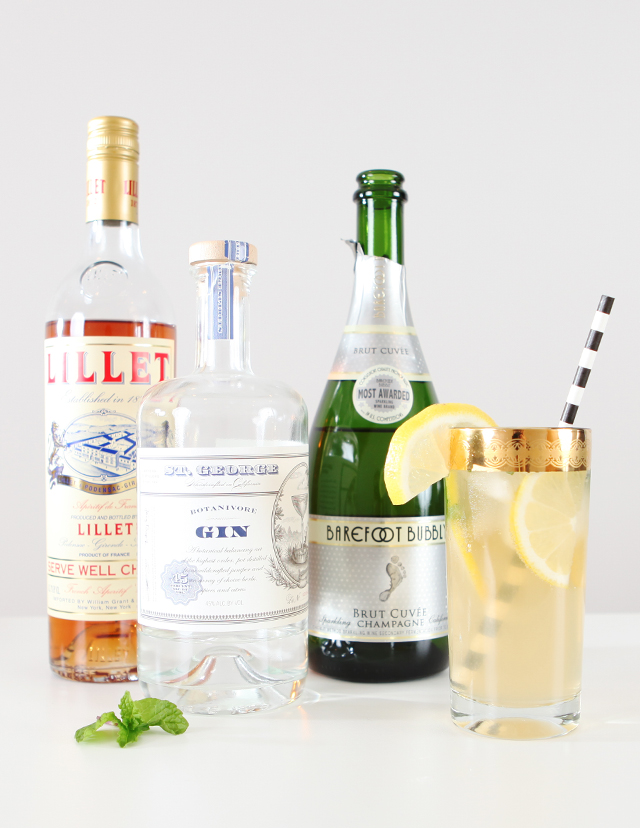 Champagne Smash
Ingredients
Double jigger St. George Gin

Bavette's uses Smalls, I'm partial to St. George

Single jigger Lillet Rosé

maybe a splash more if you're feelin' fancy

Champagne

doesn't have to be anything fancy

Mint

Lemon

Ice
Instructions
In a shaker, muddle a nice slice of lemon and a couple sprigs of mint.

Add ice, gin and Lillet Rosé

Shake for 15 seconds or so to get it good and cold.

Fill highball glass with ice and strain shaker contents into glass.

Top with champagne.

Garnish with mint and lemon.

Enjoy!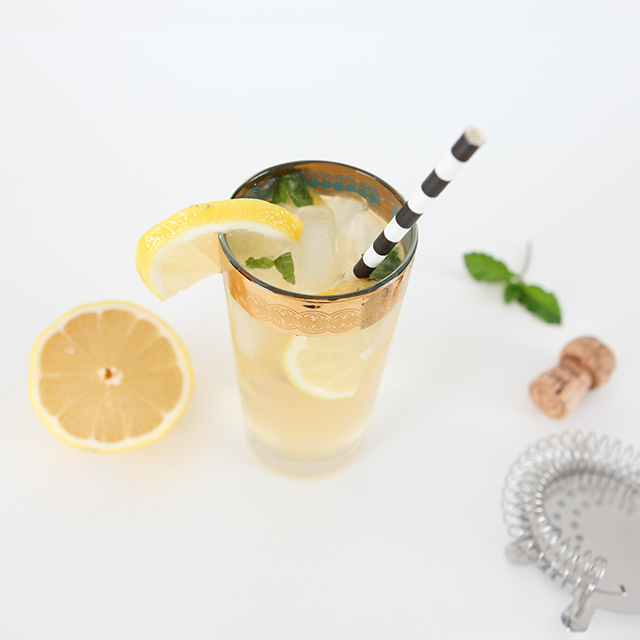 Now I mentioned something really quick about the champagne not being anything super fancy. I love champagne, and I drink it A LOT! And yes I know unless it's really from Champagne France, it's not really champagne. Bare with me here. No haters. Sometimes I'm a champagne snob. I like to have the good stuff. Special occasions sometimes even require a bottle of Dom. Most of the time I lean towards Moet Chandon White Star. It's higher quality without complete sticker shock. However, in this situation, you are mixing the champagne with lemon, gin and Lillet Rosé. There is no need to have a $30-$100 plus bottle of champagne. A $10 bottle of Barefoot Bubbly will work just fine. Also, since this isn't suppose to be a super sweet cocktail, it should have a bit of tartness to it, I like to use a brut. I think it gives it a bit more of a punch.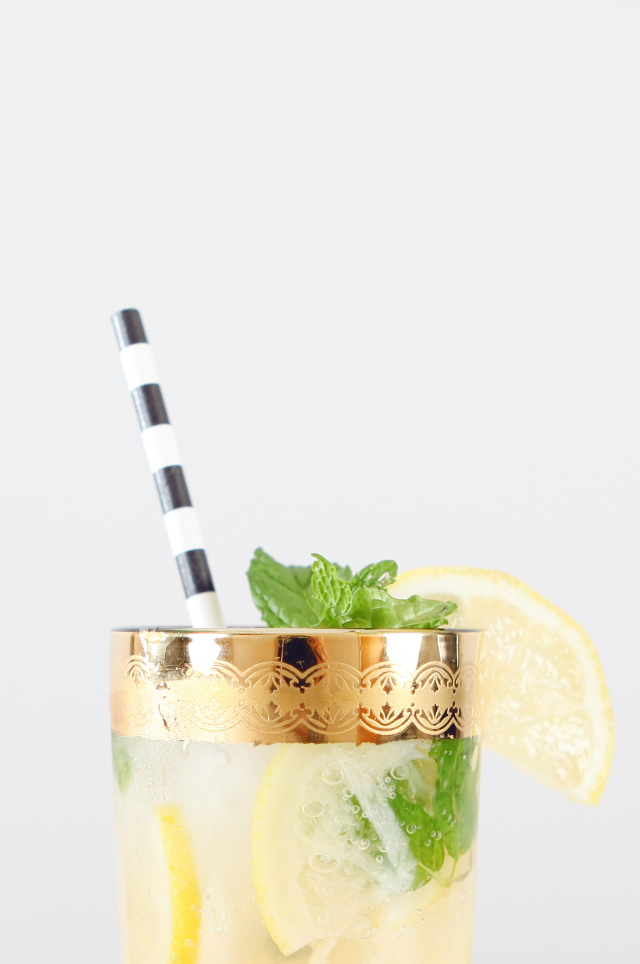 And I also have to make mention of these fancy glasses. Can we all just take a moment here to take in the A-MAZING Mad Men appeal of this barware? I have to give props to Things Once New on Etsy for selling me these stellar highball Mid-Century etched gold glasses. Seriously, swoon! I love these suckas, and I use them quite often. The rad chick who runs the store is named Minoo. Tell her I sent 'cha! Her shipping is quick as a whip. You'll love her.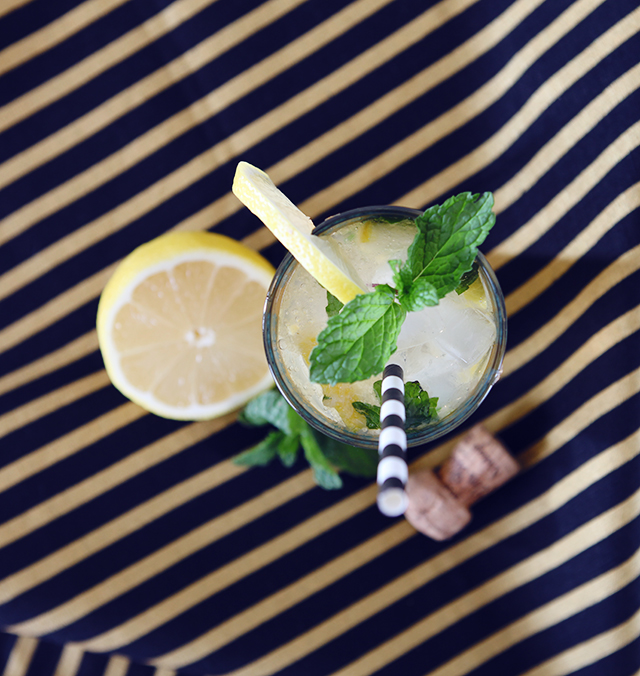 Connect with Kyla:
Facebook | Twitter | Instagram | Pinterest