Sweet crisp watermelon drizzled with blueberry glaze. Cool things down this summer, serve your guest this simply delicious Blueberry Glazed Watermelon.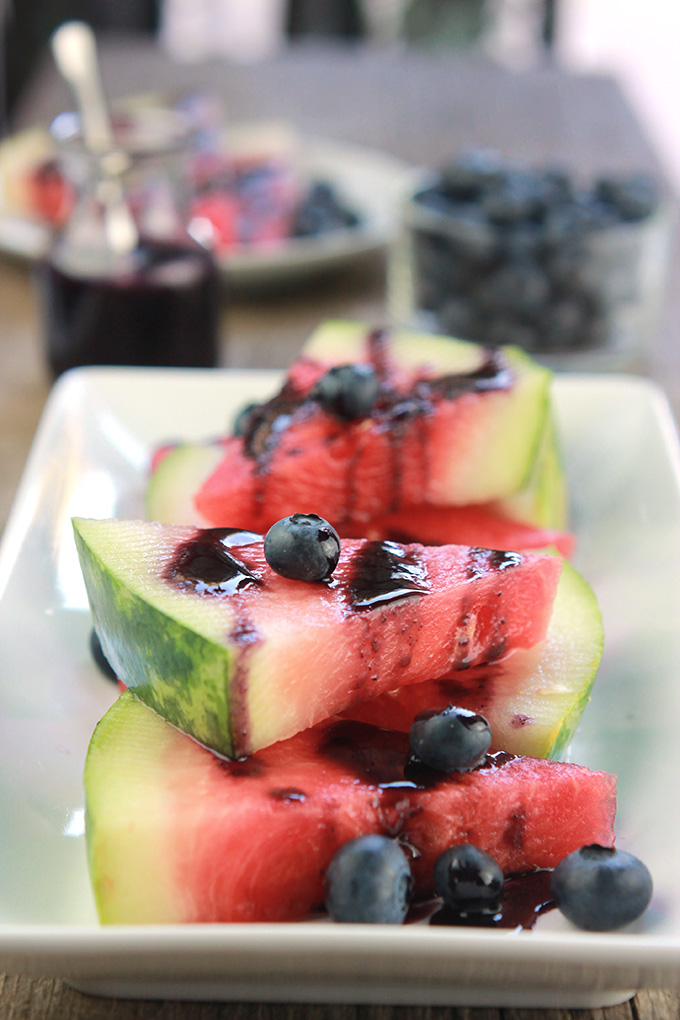 Hi all, it's Celeste from The Whole Serving. I hope everyone is enjoying the summer eating lots of fresh fruit, I have been eating tons of berries and watermelon. However, several years ago I was unable to eat watermelon without getting sick. I'm not sure what it was maybe it was hormones. Now that I can eat it without any reactions, I'm enjoying it whenever I can.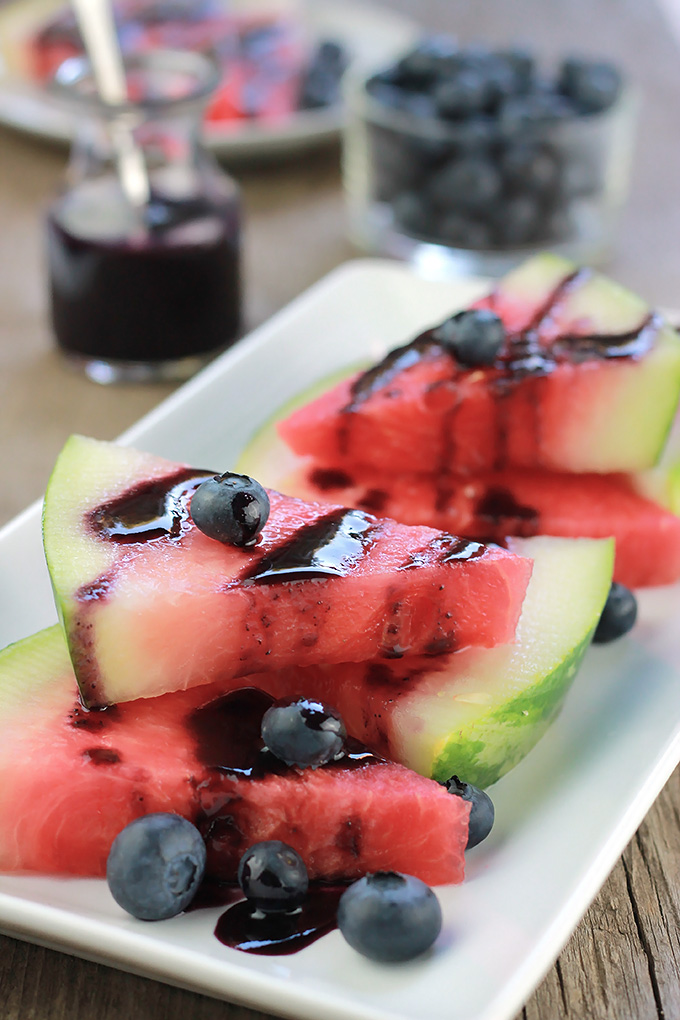 It's really hot here in Texas and slices of cool crisp watermelon are so deliciously refreshing. When there is a gathering of friends and family I like to spruce it up a bit. One of my favorite ways to do that is with this sweet blueberry glaze.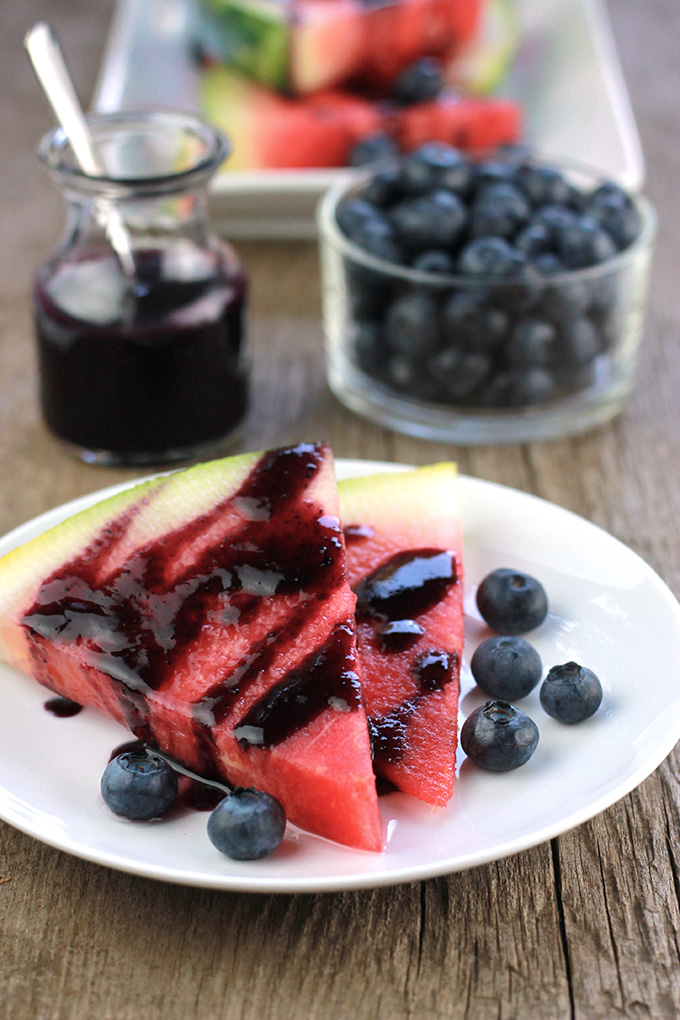 A fruit glaze is so easy to make. Simply boil your fruit of choice with a sweetener, I used maple syrup, when it has thickened strain the liquid from a solid or you can combine them together in a blender and have a thicker sauce.
Impress everyone and their taste buds, look at all that deliciousness.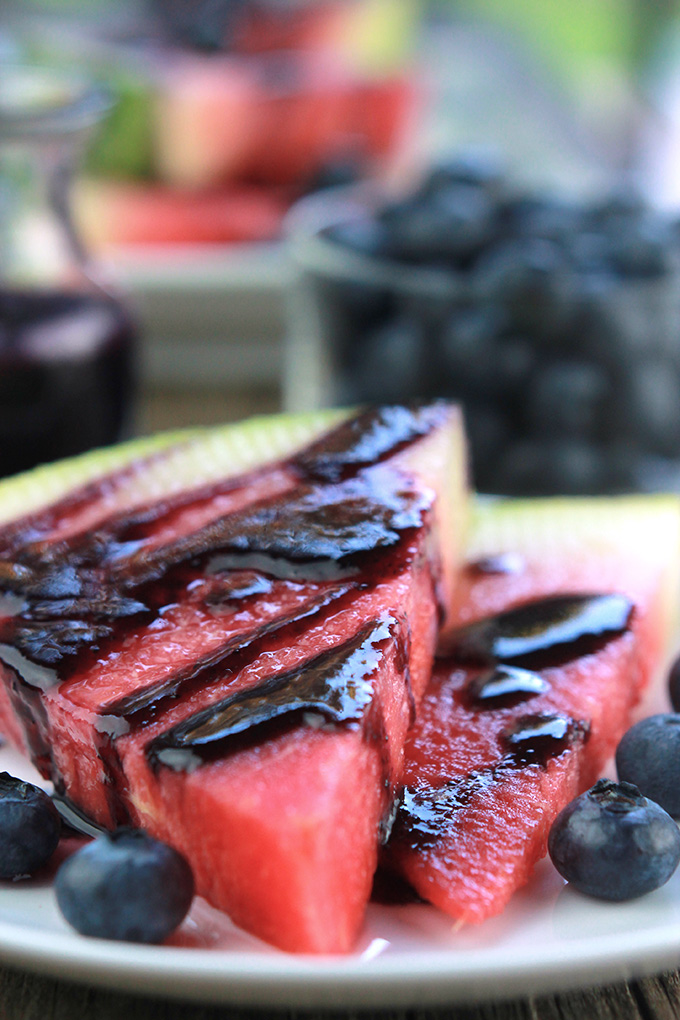 Blueberry Glazed Watermelon
Ingredients
2 cups fresh blueberries
1/2 cup filtered water
1/2 cup maple syrup or agave nectar
sliced watermelon
fresh blueberries
Directions
Place washed blueberries in a medium saucepan along with the water and sweetener. Bring to a boil and reduce to medium low.
Simmer fruit, stirring occasionally to prevent sticking. When blueberries burst and sauce has reduced by half it should coat the back of a spoon.
Remove from heat and allow to cool slightly. To separate the fruit from the sauce pour over a fine mesh strainer. For a thicker sauce place all of the ingredients into a blender and combine until smooth and well combined.
Serve sauce drizzled over sliced watermelon with fresh blueberries.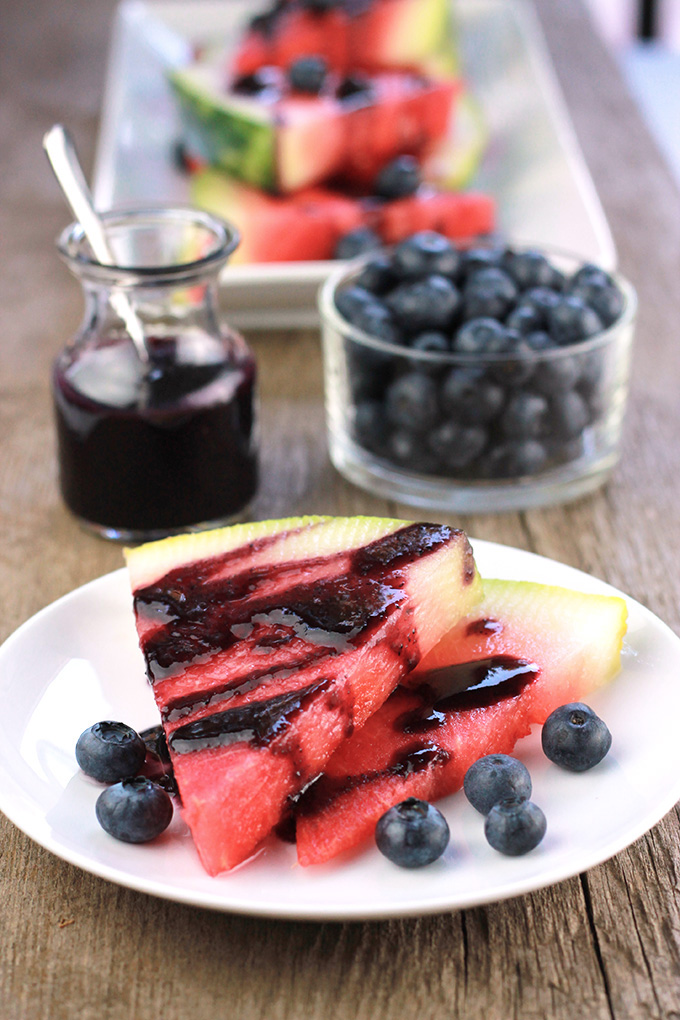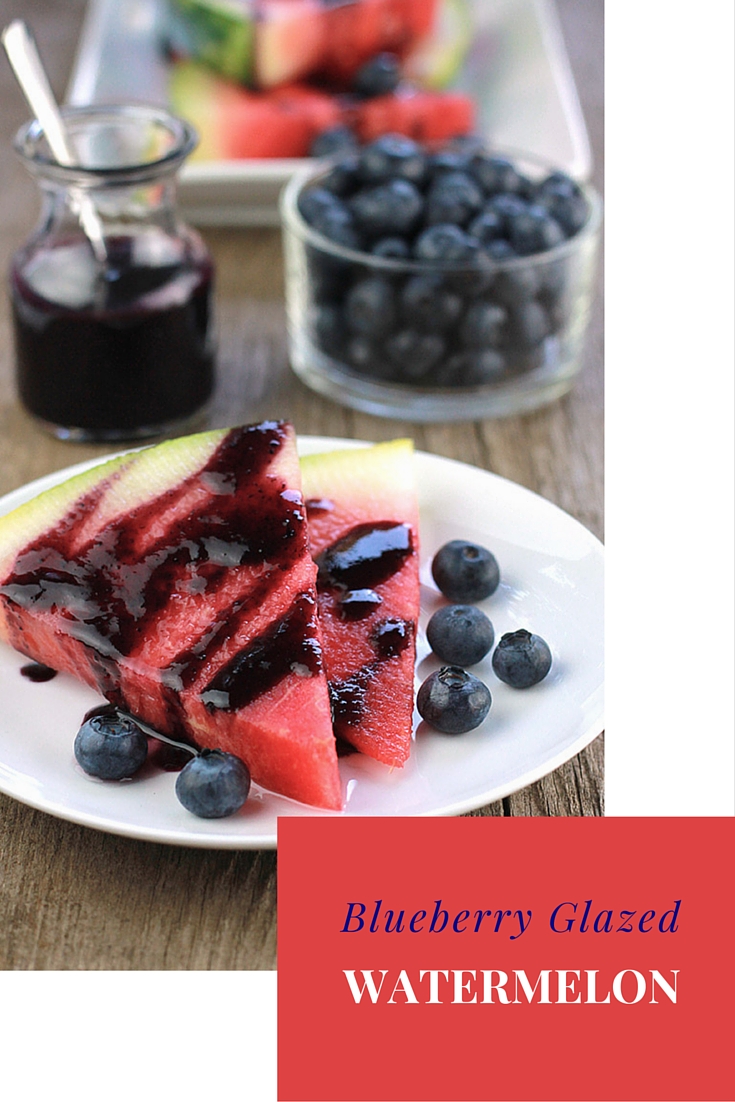 If you like this, you may enjoy some of my other creations over at The Whole Serving. Here are a few of my latest creations, stop by and check them out.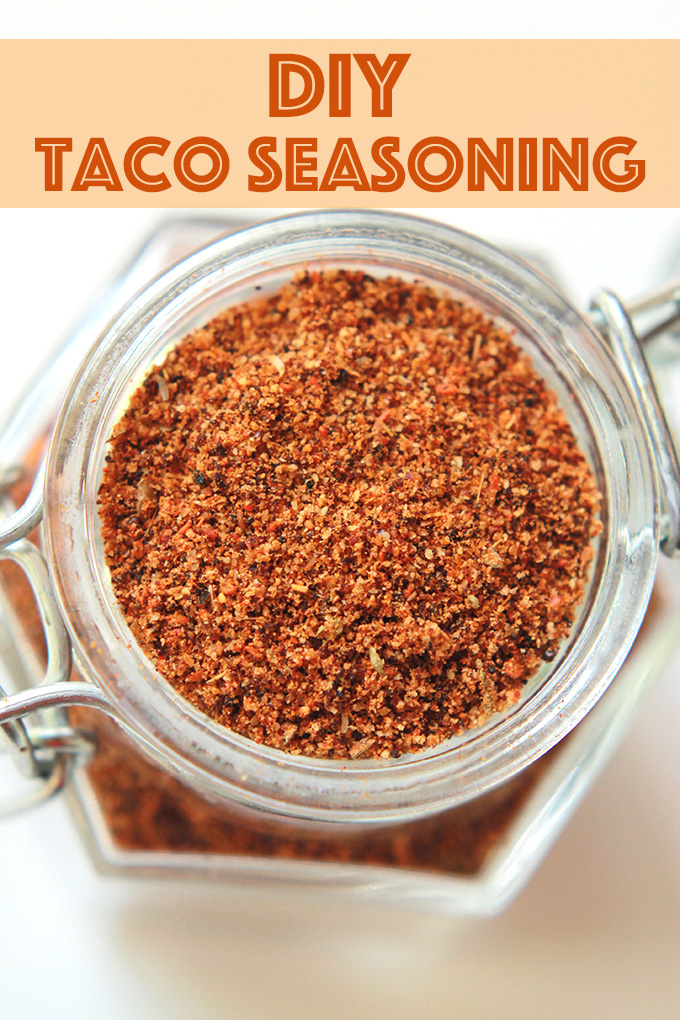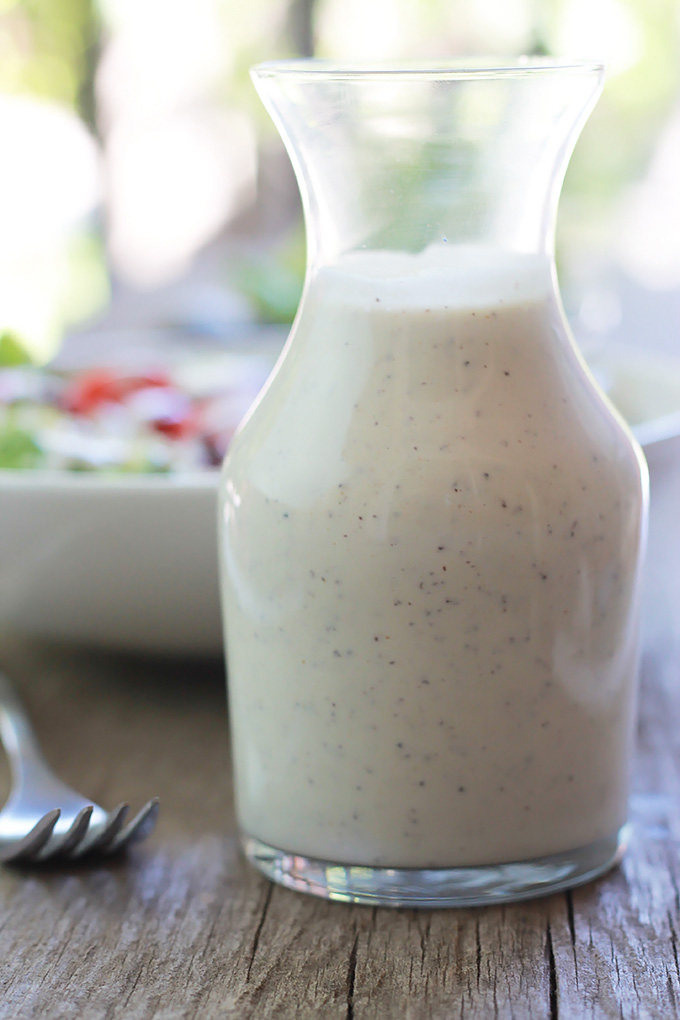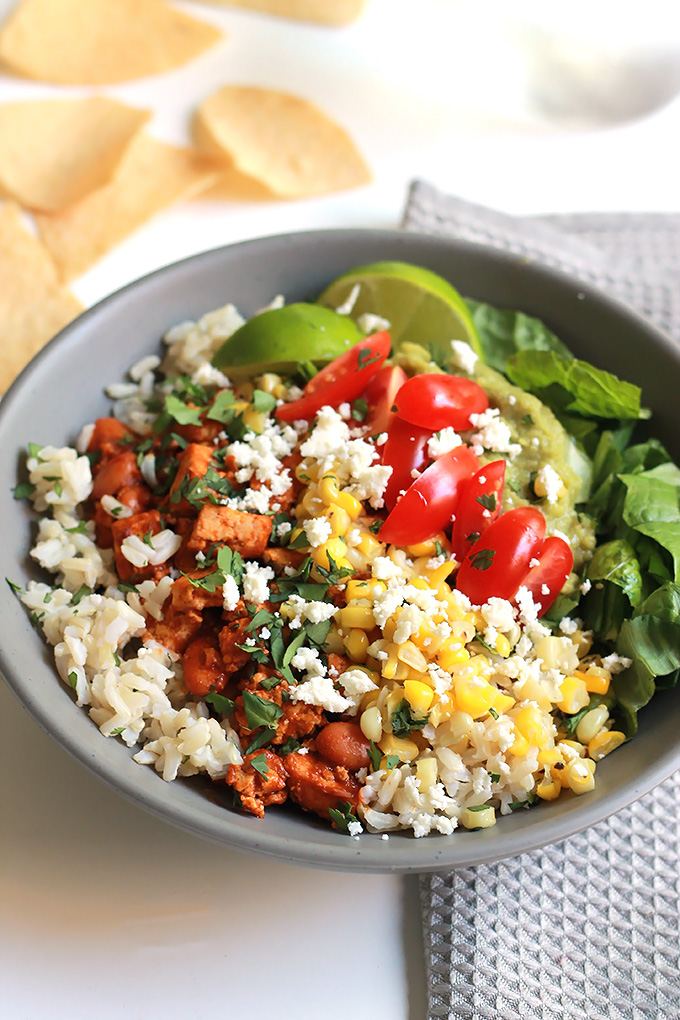 Sofritas Bowl-Vegan or Vegetarian
Latest posts by Celeste-- The Whole Serving
(see all)