Cheesy Chicken and Vegetable Soup, "Tender chicken is mixed with a variety of sauteed vegetables in a creamy Cheddar cheese to give you a warming soup your family will love."
Cheesy Chicken and Vegetable Soup
Hi there! It's Shannon from Cozy Country Living! 🙂 The weather is getting cooler and around our house that means cozy, comforting warm meals. Among those, soups; are always one of my favorites. There's nothing more inviting than the smell of homemade soup simmering on the stove all day when there is a chill in the air. Creamy soups are often more of an indulgence, but that's what I am sharing with you all today. One of my family's favorite soups, Cheesy Chicken and Vegetable!
This Cheesy Chicken and Vegetable Soup is one of those soups you can most likely prepare with items that you already have on hand. Tender chicken is mixed with a variety of sauteed vegetables in a creamy Cheddar cheese to give you a warming soup your family will love.
I hate it when I decide to make something really good and come to find that I am missing a few ingredients. Most of the time that happens when it's nap time, and well, you guessed it, I am most definitely not waking up my little one to run to the store. This soup really is simple and has really basic ingredients. This soup always seems to use up a lot of little things here and there that I have saved in the refrigerator like extra chopped veggies and chicken, and I love that!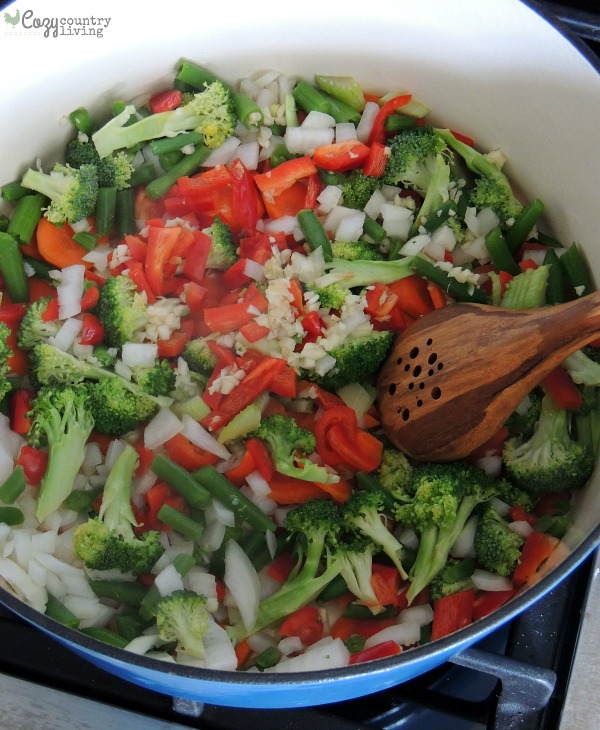 You start out softening your vegetables. I usually add the tougher ones first like the carrots and broccoli and then continue adding the vegetables while stirring until they are all soft- it takes about 20 minutes total.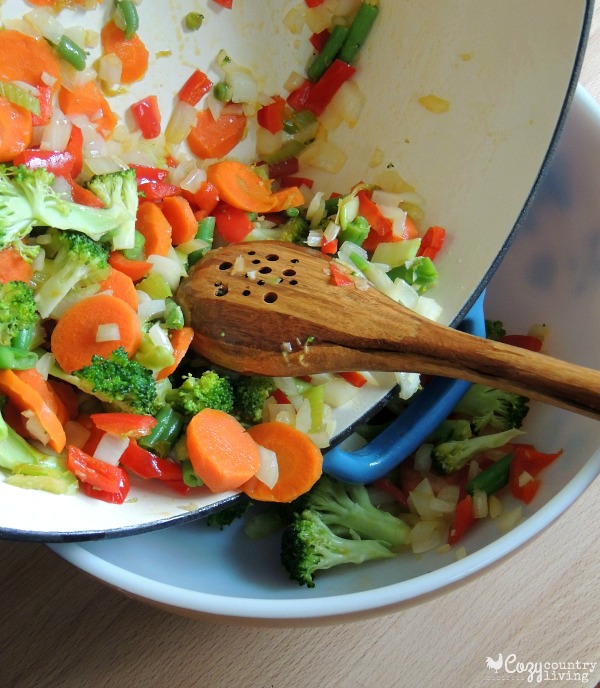 Then I take the vegetables out of the pot and place them in a large bowl so I can make the soup base, that yummy creamy cheddar cheese base!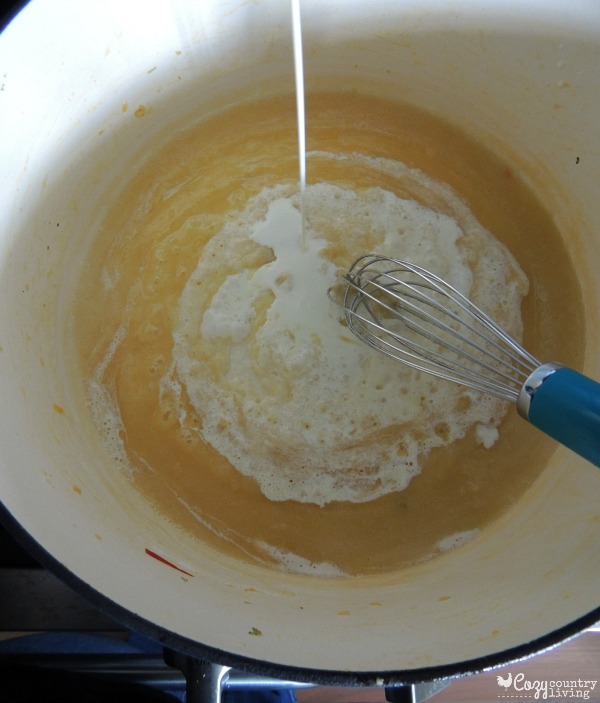 After melting some butter, you then add the flour, whisk until smooth and slowly add the heavy cream and milk…I know- naughty!
When that mixture thickens you are going to want to cover the pot and let it simmer on low for about 20 minutes to thicken up.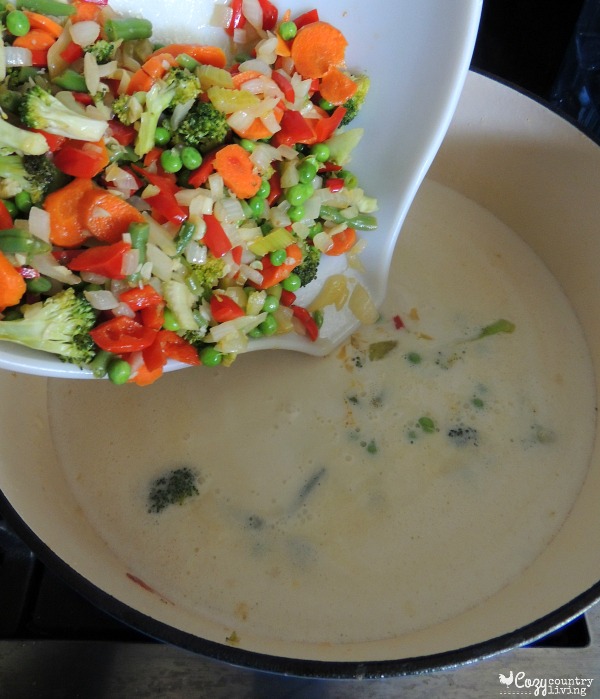 After the 20 minutes, add the vegetables along with the chopped chicken (you can always use a rotisserie chicken) back to the pot.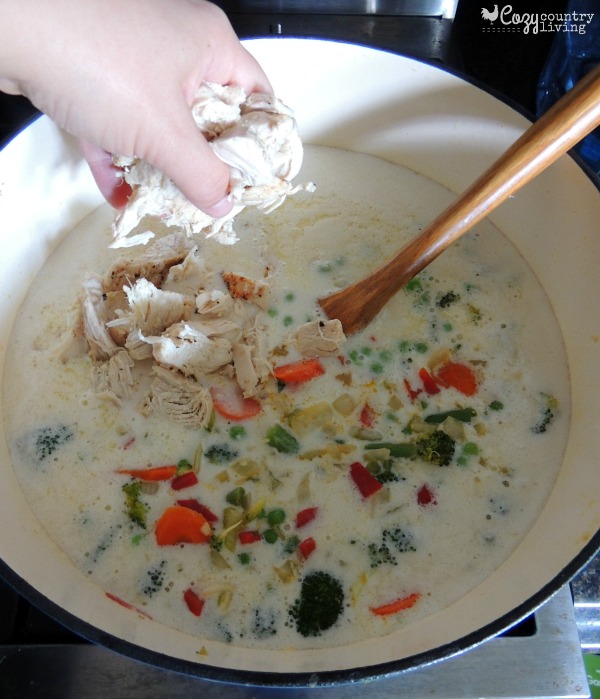 Cover the pot again and allow that to simmer for 20 more minutes.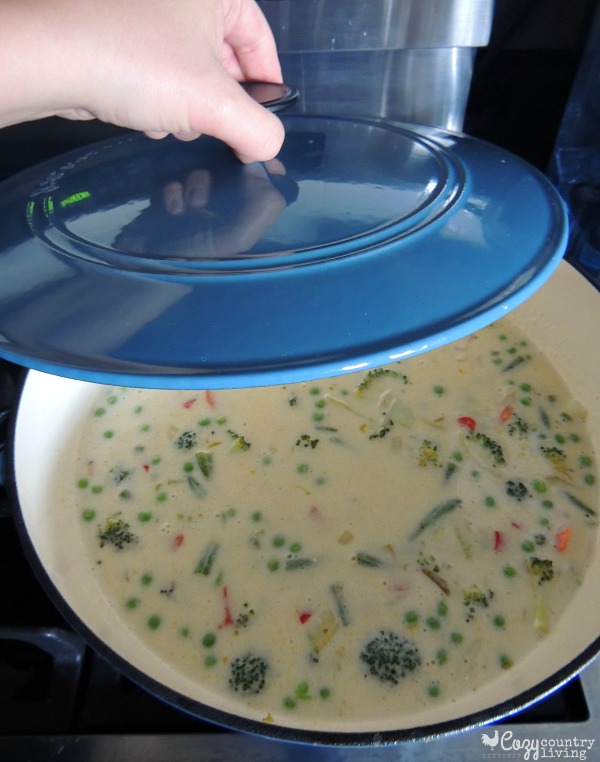 When the 20 minutes is up you get to add the cheese along with a little sea salt and pepper! This is my favorite part by the way 😉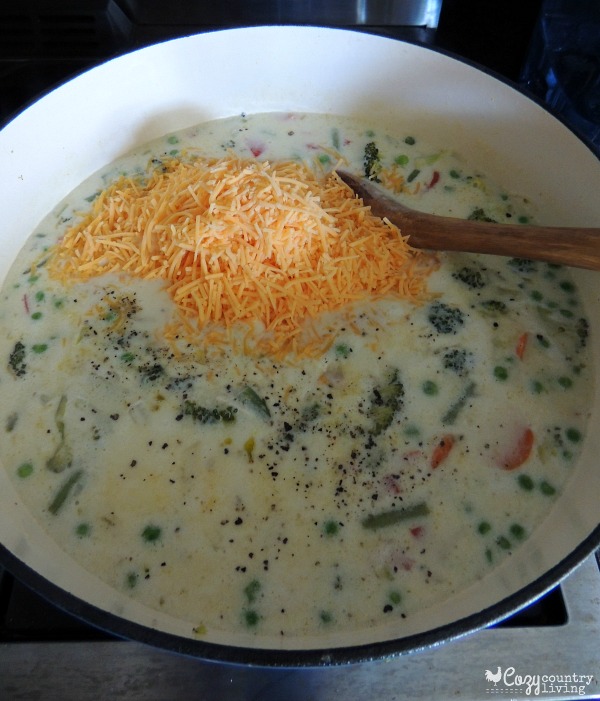 Then turn off the heat and let it cool a bit before serving because it will be very, very hot!
This soup is delicious by itself, served in homemade bread bowls, or with a loaf of fresh crusty bread. I hope you and your family give this yummy soup a try this season! Enjoy!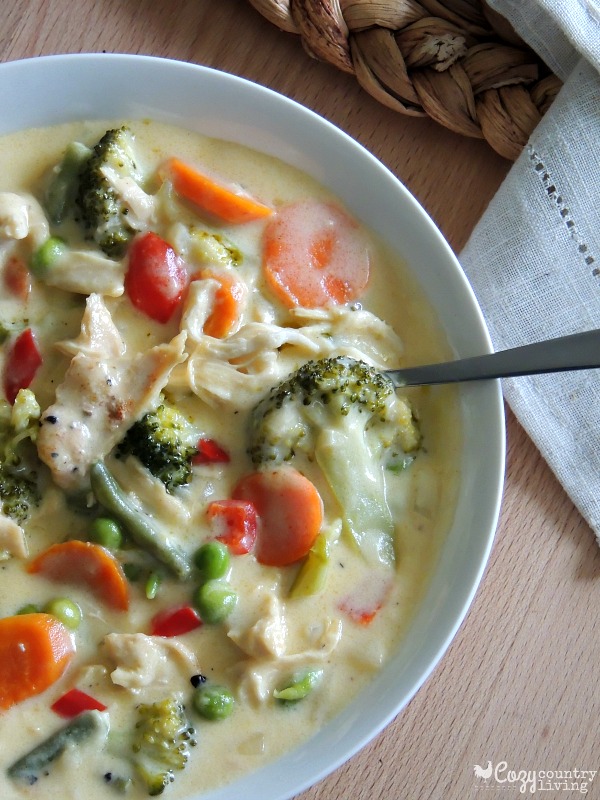 Cheesy Chicken and Vegetable Soup
Ingredients
2-3

Tbsp.

extra virgin olive oil

2

stalks of celery

chopped

2

large carrots

sliced thin

1

large onion

chopped

1

red pepper

chopped

1

cup

green beans

chopped

1

small head of broccoli

chopped

2

large cloves garlic

minced

1

cup

frozen peas

1/2

cup

unsalted butter

divided

1/2

cup

all purpose flour

2

cups

heavy cream

2

cups

2% milk

4

cups

Chicken Stock

4

cups

freshly grated Sharp Cheddar Cheese

4

cups

of shredded or chopped chicken or a rotisserie chicken

sea salt

black pepper
Instructions
In your pot or Dutch Oven, heat the olive oil and start sauteing your vegetables (except for the frozen peas). I like to start with the toughest first, like the carrots and broccoli.

Keep adding vegetables, while stirring until they are all softened, about 20 minutes.

Remove the vegetables from the pot and place them in a large bowl and set aside.

You can add the frozen peas to this veggie mixture at this time.

Melt the 1/2 cup of butter in the pot on a medium/low heat.

Add the flour and mix together until incorporated.

Slowly add the heavy cream, and the milk, while whisking together.

When it becomes slightly thickened, add the chicken stock and whisk to combine.

Turn the heat to low, cover, and simmer for 20 minutes.

Add the vegetable mixture back in, give it a good stir, cover and simmer on low 20 more minutes.

Add 3 1/2 cups of the Cheddar Cheese and season well with the sea salt and pepper. I use about 2 1/2 tsp. of salt and 1/4 – 1/2 tsp. black pepper, but start out with a little and keep tasting until you get it the way you want- you can't take out salt but you can always add more:)

Top with remaining grated Cheddar Cheese and serve warm in homemade bread bowls or with fresh crusty bread.
Connect with Shannon here:
Facebook | Twitter | Pinterest | Instagram | Google+ | Bloglovin'
For more yummy inspiration make sure to follow my food board on Pinterest!