This post brought to you by American Frozen Foods Institute and the Frozen Food Roundtable. All opinions are 100% mine.
One thing I always have on hand when I'm making my weekly meals are frozen vegetables. I challenged myself last week to incorporate more frozen items into our menu rotation to see the benefits of frozen foods. I have to say, I was happy with the results!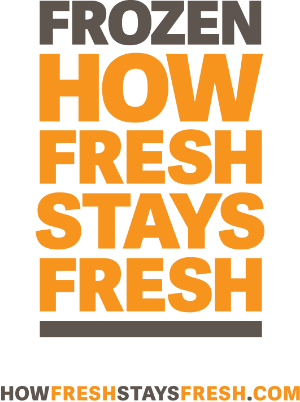 I don't know why frozen foods get a bad rap. When you compare the two, fresh vs frozen foods are not all that different. Frozen foods such as vegetables or baked goods, are frozen at the peak of freshness. Making it convenient to enjoy your favorite vegetables year round. Plus, storing these vegetables in the freezer ensures you will use all them, and they won't go bad in that bottom refrigerator drawer!
So, last week I challenged myself as I stated before, and used more frozen foods in our menu. Here are the results:
Meal #1:
Pork tenderloin with mashed potatoes and pan roasted frozen brussel sprouts
Meal #2:
Baked honey soy chicken tenders, steamed white rice with frozen peas and frozen sugar snap peas glazed in the chicken cooking sauce
Meal #3
Frozen French bread pizzas with extra cheese and side salad
Meal #4
Ham steak mixed with macaroni and cheese with frozen sauted buttered peas
I have to be honest, all these meals were amazing! But, my favorite was definitely #1 followed by a close #3. One of my favorite side dishes are pan seared brussel sprouts. And, I ALWAYS make them from frozen!
French bread pizzas are definitely one of my biggest weaknesses. I don't know what it is about that crusty bread topped with a great tomato sauce and lots of melty cheese that really gets me going. I also sprinkle on some garlic powder, oregano and shredded cheese for the last 5 minutes to kick it up a notch! Try it, you'll love it!
Another freezer staple of mine is having frozen peas on hand at all times. It's so easy to throw a handful into fried rice or a quick side dish, easy dinners are my favorite!
So, why don't you discover how How Fresh Stays Fresh and visit your local freezer section?
Here are few benefits of frozen foods that I really enjoy:
Frozen Foods make calorie counting a breeze. There are clear serving sizes and nutritional info on the back of every package.
Today, customizing dishes with frozen foods is easier than ever. Simply toss your favorite frozen vegetables in with chicken and rice or sprinkle some breadcrumbs on your mac and cheese after cooking. It's easy to add your own personal touch.
Freezing foods in seconds at temperature well below zero degrees immediately locks in nutrients and flavors until your meal is ready to be enjoyed.
Freezing is nature's pause button and one of the most trusted ways to keep fresh foods fresh. Freezing keeps just picked, just baked and just crafted foods at their peak of freshness.
Latest posts by Dana DeVolk
(see all)